LIFE & PHILOSOPHY OF DENIS NOBLE
Interview with Gunes Taylor at the London IAI Festival 2022
Click here to view the interview
This interview was done soon after the IAI CONVERSATION between Denis Noble and Richard Dawkins
It weaves between the influence of his school teachers, his fascination with music and poetry, and the origins of his philosophy of biology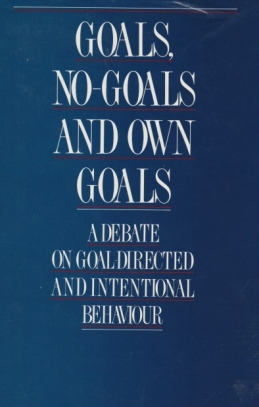 Goals, No Goals and Own Goals
First published in 1989, Goals, No-Goals and Own Goals presents a stimulating debate between three scientists and three philosophers about the significance and nature of goal-directed and intentional behaviour. At one extreme David McFarland brings into radical question the need for either of these concepts, at least in the scientific study of animal behaviour. At the other extreme, Alan Montefiore argues that such concepts are indispensable to any explication of the meaningful use of language and that we must therefore acknowledge their importance in understanding the nature of human behaviour. Denis Noble uses arguments drawn from computer science and physiology to show that it is incorrect to regard intentions as causes of neural events, even though it is correct to regard intentionality as responsible for our actions. Shawn Lockery outlines how intentional behaviour might be subjected to physiological study. Kathy Wilkes widens the debate by asking some basic questions about the nature of explanation and finally, Daniel Dennett argues how the study of animal behaviour might inform research in Artificial Intelligence. The book was based on a series of graduate student and faculty seminars held at Balliol College Oxford during the 1980s. The book is now republished in the Routledge Revivals series.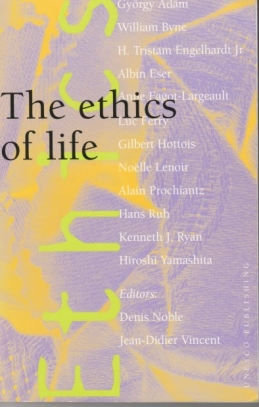 The Ethics of Life
Essays based on a meeting held at UNESCO in Paris by the Ethics Committee of the International Union of Physiological Sciences (IUPS), chaired by Jean Didier Vincent (Chair of the Ethics Committee of IUPS) and Denis Noble, at that time the Secretary-General of IUPS. The book was published by UNESCO in 1997 in both English (The Ethics of Life) and French (L'Ethique du Vivant).
Links to Relevant Selected Articles
Many of Denis Noble's books and articles are relevant to philosophy, notably including The Music of Life and Dance to the Tune of Life. The articles selected here are recent articles relevant to the questions of agency and free choice in organisms, including man. They are all collected together in the Harnessing Stochasticity Collection, with a link to this collection at the end.
Denis Noble & Raymond Noble 2021, Rehabilitation of Karl Popper's Ideas on Evolutionary Biology and the Nature of Biological Science. In Karl Popper's Science and Philosophy, Springer, pp 193-209.
Raymond Noble & Denis Noble, 2021, Can Reasons and Values Influence Action: How Might Intentional Agency Work Physiologically? Journal for General Philosophy of Science, 52, 277-295.
Emma De Angelis, Ali Hossaini, Raymond Noble, Denis Noble, Ana M Soto,  Carlos Sonnenschein & Kenneth Payne, 2019, The RUSI Journal, 164, 120-144.
Lee, Y-H., Mayer, C., Noble, D., Vines, D. 2019, AGAINST THE MICROFOUNDATION HEGEMONY:COOPERATION IN BIOLOGY, BUSINESSAND ECONOMICS, Theoretical Biology Forum, p 33.
Raymond Noble & Denis Noble, 2019, A-Mergence of Biological Systems. In The Routledge Handbook of Emergence. (Eds Sophie Gibb, Robin Hendry, Tom Lancaster). chapter 13.
Raymond Noble & Denis Noble, 2018. Harnessing stochasticity: How do organisms make choices? Chaos, 28, https://doi.org/10.1063/1.5039668
Raymond Noble & Denis Noble, 2017. Was the Watchmaker Blind? Or Was She One-Eyed? Biology, 6, 47, https://doi.org/10.3390/biology6040047
Click the above link to access and download the complete set of the articles above.